Rubber products
WUXI CHENG HSIUNG INTERNATIONAL CORP. is one of the foreign trade companies in China. Our sub-branch factory is specialized in manufacturing of diversified kinds of rubber products such as rubber conveyor belts, V-belts, rubber sheets, rubber mats, rubber treads, rubber sealings and many other rubber related products. we produce our products with high quality and reasonable prices, and we provide top grade after-sales service.
Our products are widely used in machinery, industry, agriculture, fishery, metallurgy, petroleum, and mining etc. We haved exported our products to many other countries overseas, our worldwide markets include South America, Western and middle Europe, Eastern Asia etc.
Our products have all passed the international Quality System-Certification of ISO9001:2000. Our business philosophy is rooted in honest business practices. We strive for quality first and extensive training of our employees to achieve superior customer satisfaction. Our innovative technological research and high degree of expertise gives us the edge to build a brand that is recognizable world wide. Welcome friends from any country for a visit and contract with us. Our company will continue to develop hand in hand with customers to create a wonderful future.
• Conveyor belt
¡¡¡¡Conveyor belts are normally made of rubber and fabric cord or steel cord. They are the main parts of conveyors, mainly used for transportation in coal, mining, harbor, metallurgy, chemical industry, construction, power plant etc.
¡¡£­Cotton Canvas Conveyor Belts
¡¡£­Nylon Canvas Conveyor Belts
¡¡£­EP Conveyor Belts
¡¡£­Endless Conveyor Belts
¡¡£­Polyester Fabric Conveyor Belts
¡¡£­Chevron Pattern Conveyor Belts
¡¡£­Heat Resistant Conveyor Belts
¡¡£­Acid/ Alkali Resistance Conveyor Belts
¡¡£­ Oil Resistant Conveyor Belts

• V-belt
The structure of V-belts: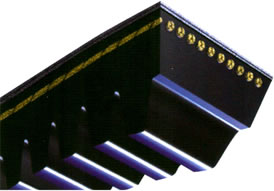 1. The protective cover is wrapped on the bias and has strong friction resistance and excellent flexibility to protect rubber body and cable cord.
2. The solid rubber body supports the cable cord in appropriate position and hold the cushion stuff to give ¡° extra flexibility and minimum heat built-up during engagement.
3. The tension member is composed of rubber and Polyester cable cord with extraordinary tenacity to provide great tensile strength.
¡¡£­Narrow shape V-belts
¡¡£­Hexagonal V-belts
¡¡£­Ordinary V-belts
¡¡£­Ordinary raw edge cogged V-belts
¡¡£­Agricultural V-belts
¡¡£­Wedge raw edge cogged V-belts
¡¡£­Multi-ribbed belts
¡¡£­Joint ordinary V-belts
¡¡£­Joint narrow V-belt