Brief:
FITTING FUSION WELDING MACHINE SHG 315¡¡FITTING FUSION WELDING MACHINE SHG 450 630 800¡¡weilding machine SHD 160 250 315¡¡weilding machine SHD 450 630¡¡weilding machine SHD 800 1200 1600
BUTT FUSION WELDING MACHINE SHD 450 630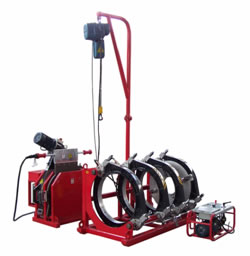 ¡¡¡¡¡¡¡¡¡¡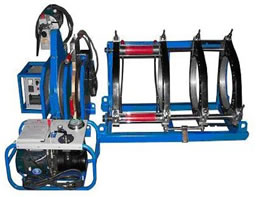 Application and Features
Suitable for butt welding of plastic pipes and / or fittings made of PE, PP, and PVDF in a ditch in worksite or workshop
Consists of basic frame, hydraulic unit, planing tool, heating plate, support for planing tool & heating plate, and optional parts
Removable PTFE coated heating plate with high accurate temperature control system
Electrical planing tool
Be made of lightweight and high strength material; simple structure, small and delicate, user friendly.
Low starting pressure ensures reliable welding quality of small pipes
Changeable welding position enables to weld various fittings more easily.
Separate two-channel timer records time in soaking and cooling phases.
High-accurate and shockproof pressure meter indicates clearer readings.
Optional parts
Stub end device for short flange stub
Data logger.
Model

SHD450

SHD630

Pipe Size (mm)

280£¬315£¬355£¬400£¬450

400£¬450£¬500£¬560£¬630

Heating Plate Max. Temp.

270¡æ

270¡æ

Temp. deviation in surface (170~250¡æ)

¡À7¡æ

¡À7¡æ

Pressure adjustable ranges

0¡«6.3MPa

0¡«6.3MPa

Working voltage

380V£¬50Hz

380V£¬50Hz

Heating plate power

5.2KW

9.2KW

Planing tool power

1.5 KW

1.5 KW

Hydraulic unit power

1.5 KW

1.5 KW

Total power

8.2 KW

12.2 KW

Weight

394Kg

617Kg

Packing dimension

Basic frame

1480¡Á910¡Á1050

1680¡Á1280¡Á1240

Support

860¡Á1010¡Á1230

860¡Á1160¡Á1480

Hydraulic unit

740¡Á490¡Á620

740¡Á490¡Á620
¡¡
¡¡