Weatherproof Isolator
CH series of weather-resistant isolator wide range of applications, su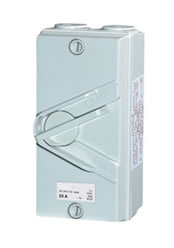 itable for any outdoor application conditions.
Including unipolar, bipolar, and three-pole switch, current use of 20A ~ 63A .
Installed base of devices provides a more easy termination and more wiring space. (Switch size is 165mm 〜 82mm , overall height 85mm .)
Install ground and neutral bars with dual clamping screws to connect the same cable clamp strip length and reliable.
Terminal aperture 5 -6mm . More secure, installation switches to a metal structure with an insulating cap, insulating cap covering the base mounting screws to prevent their exposure to energized cables.
Specification:

Voltage rating
Frequency
Poles
Current rating(A)
Degree of protection
Material
Cable size(Maximum)
Standard
Conduit Entry dimension
240V-500V AC
50-60Hz
1,2,3,4
20A , 35A , 63A
IP66
PC(Ploy Carbonate)
25mm
IEC60947-3
16/ 25mm
| | |
| --- | --- |
| Part No. | Description |
| CH1-20/35/63 | 20A/35A/63A 1 pole isolator |
| CH2-20/35/63 | 20A/35A/63A 2 poles isolator |
| CH3-20/35/63 | 20A/35A/63A 3 poles isolator |
| CH4-20/35/63 | 20A/35A/63A 4 poles isolator |